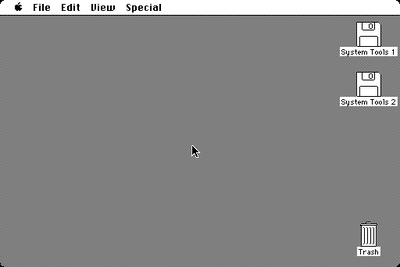 System 4 is the fourth major upgrade of the Macintosh system software. System 4 was first released in January 1987.
Features
System 4.0:
Was a minor update from System 3, but did have some changes and new features.
Introduced AppleShare, a file server, as part of the OS.
Updated the LaserWriter Driver to 3.3.

System 4.1:
Made for the release of the Macintosh II and SE.
Updated the LaserWriter Driver to 4.0.

System 4.2:
Improved the "About the Macintosh" dialog box; now contained RAM usage as seen through Mac OS 9.
The Color menu was displayed on color capable Macs.
Backgrounder, DA Handler, Early Access, and Print Moniter were added.
Cooperative multitasking via MultiFinder was added.
Updated the LaserWriter Driver to 5.0.

System 4.3:
Updated the Apple HD SC Setup partitioning software.
Updated the LaserWriter Driver to 5.1.
Versions of System 4
Macintosh system software
Ad blocker interference detected!
Wikia is a free-to-use site that makes money from advertising. We have a modified experience for viewers using ad blockers

Wikia is not accessible if you've made further modifications. Remove the custom ad blocker rule(s) and the page will load as expected.