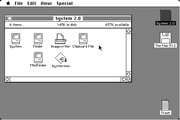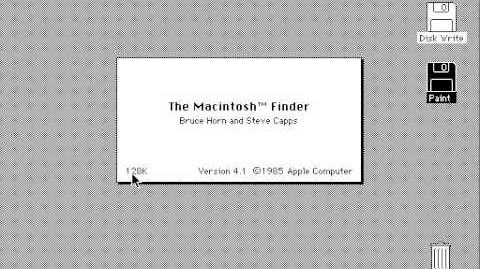 System 2.0, Finder 4.1 (System Software 0.3 / 0.5)
System 2.0 was released in April 1985, nearly a full year after Apple released its previous software update for the Macintosh.
The most significant improvement System 2.0 provided was performance. Startup time was reduced by 20%. Also, the ImageWriter received a new icon.
A significant amount of work was done in the Finder, reflected by a leap in the version number from 1.1 to 4.1 (it took another three years for the Finder and System version numbers to become aligned). The disk icons lost the black shutter in favour of a nearly fully white look.
Apple removed the Finder menu commands Put Back and Close All. New Finder commands included New Folder (which finally ended the Empty Folder saga), Print Catalogue, Use MiniFinder and Shut Down.
Dragging a disk icon to the Trash (Wastebasket) to eject the disk, a long-standing Mac practice, was first implemented in System 2.
In list views, file icons were added next to the text, unlike in the System 1 text-only list views.
However, System 2.0 inherited a problem from System 1.1 when rebuilding the Desktop. Because HFS was not yet available, rebuilding the desktop meant that all folders were removed and all files ended up directly inside the root of the disk. MFS (which was the filing system used then) did not support nested folders, and all folder information was stored in the Finder's Desktop database. 
See also