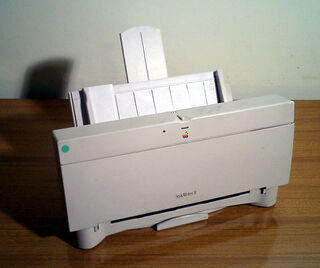 The Apple StyleWriters were Apple Inc.'s line of inkjet serial printers, targeted mainly towards consumers. They produced print quality that was better than the dot-matrix ImageWriters, and were cheaper than the LaserWriters. Many of them were simply rebranded Canon printers.
There were two portable StyleWriters (Portable StyleWriter and Color StyleWriter 2200) and plenty of color StyleWriters.
List of all StyleWriters
Sources and References
Ad blocker interference detected!
Wikia is a free-to-use site that makes money from advertising. We have a modified experience for viewers using ad blockers

Wikia is not accessible if you've made further modifications. Remove the custom ad blocker rule(s) and the page will load as expected.