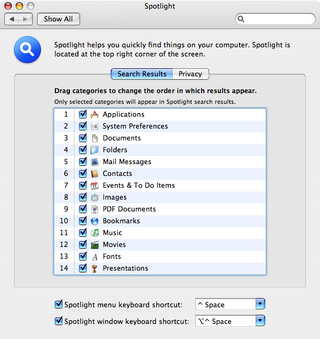 The Spotlight System Preference appears as of Mac OS X 10.4 Tiger and is used to configure, fine-tune and adjust settings for Spotlight in the Mac OS.
Tabs
The Spotlight System Preference is divided into two tabs. There are two universal settings present in both tabs: keyboard shortcuts for the Spotlight menu and for the Spotlight window.
Search Results
In the Search Results tab, the user can choose which categories Spotlight should seek through.
Fourteen categories are available; each category can be turned on and off individually.
Privacy
Folders and disks which appear in the locations list (which can be added by clicking the "+" button or by dragging items into the list) will not be searched by Spotlight.
You can also remove items by choosing the item and clicking "-".
Ad blocker interference detected!
Wikia is a free-to-use site that makes money from advertising. We have a modified experience for viewers using ad blockers

Wikia is not accessible if you've made further modifications. Remove the custom ad blocker rule(s) and the page will load as expected.