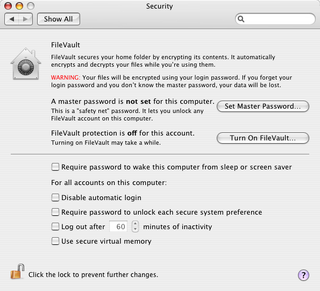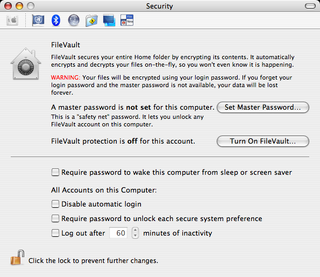 The Security panel of System Preferences appeared, with FileVault, as of Mac OS X 10.3 "Panther". In Mac OS X 10.4, an additional option is added to enable the use of secure virtual memory.
The Security panel provides a direct link to the options offered with FileVault. The user can set a master password, which acts as a "safety net" password to unlock any FileVault account on the Mac. (The user's own files will be encrypted using the user's own login password.)
Warning: If both passwords are forgotten, data loss may occur!
FileVault protection can also be activated. Notice that this is only possible if there is sufficient hard drive space available on the Mac. A complete copy of the Home folder must first be created.
Other options, unrelated to FileVault, include:
Require password to wake this computer from sleep or screen saver: This enables password protection which appears after the Mac is woken up, or when the screen saver is being deactivated.
Require password to unlock each system preference: The option, whether or not a password is required before every system preference (panel) is unlocked, ready for modification, can be toggled on and off here.
Log out after (number of minutes) of inactivity: Sets an option whereby system logout is triggered after a certain time passes by.
Use secure virtual memory: (Mac OS X 10.4 and later only) Enables the usage of secure virtual memory.
See also
Ad blocker interference detected!
Wikia is a free-to-use site that makes money from advertising. We have a modified experience for viewers using ad blockers

Wikia is not accessible if you've made further modifications. Remove the custom ad blocker rule(s) and the page will load as expected.