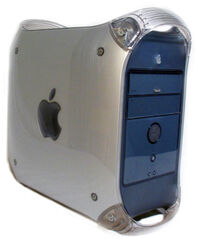 The
Power Macintosh G4
debuted in late
1999
and was the first
Macintosh
to be dubbed a
supercomputer
, capable of doing more than a billion calculations per second. The computer was later discontinued during the Summer of 2004.
Export limitations
At the start and for about a year after the late 1999 debut, the Power Macintosh G4 was not available for the market in the mainland of the People's Republic of China, as the US government deemed the "supercomputer" a "weapon". Mainland Chinese users, however, were able to get their hands on a Power Mac G4 after this limitation was removed. When the Titanium PowerBook G4 -- the first portable supercomputer -- was released, no similar sanctions were in place.
Ad blocker interference detected!
Wikia is a free-to-use site that makes money from advertising. We have a modified experience for viewers using ad blockers

Wikia is not accessible if you've made further modifications. Remove the custom ad blocker rule(s) and the page will load as expected.