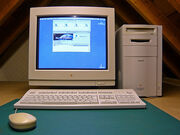 The Power Macintosh 8500 was a high-end Macintosh personal computer designed, manufactured and sold by Apple Computer from August 8, 1995 until February 17, 1997, and was replaced by the Power Macintosh 8600. In Europe and Japan, it was known as the Power Macintosh 8515.
Software Included with Power Macintosh 8500
Mac OS 7.5.2
Finder 7.5.3
LaserWriter 8.2.2
QuickTime 2.0
QuickDraw GX
ColorSync 1.0.5
Adobe Type Manager 3.8.3
CD-ROM (includes Apple CD-ROM, Foreign File Access, Apple Photo Access, etc.)
Speech Manager
Apple Guide
AppleScript 1.0.1
PC Exchange
Apple Video Player
Ad blocker interference detected!
Wikia is a free-to-use site that makes money from advertising. We have a modified experience for viewers using ad blockers

Wikia is not accessible if you've made further modifications. Remove the custom ad blocker rule(s) and the page will load as expected.