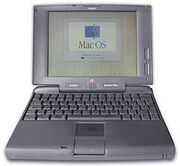 The Powerbook 5300 incorporated a PowerPC 603 processor, on-board ram, IDE hard drive and either a 10.4 inch color screen or 9.5 inch greyscale screen. The entire lineup was released in August 1995 and lasted just over 12 months before production ceased. Lineup:
PowerBook 5300/100mHz
Powerbook 5300c/100mHz
Powerbook 5300cs/100mhz
Powerbook 5300ce/117mHz
The Powerbook 5300 suffered from a number of crippling faults, brought about by bad design and poor manufacturing. Failed power jacks and poor batteries plagued the entire lineup.
references
Powerbook 5300/100, Powerbook 5300cs/100, Powerbook 5300ce/117mHz At Forevermac.com
Ad blocker interference detected!
Wikia is a free-to-use site that makes money from advertising. We have a modified experience for viewers using ad blockers

Wikia is not accessible if you've made further modifications. Remove the custom ad blocker rule(s) and the page will load as expected.