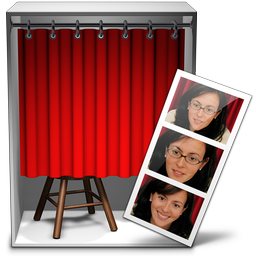 Photo Booth is included with all current Macs with an iSight camera installed. It also comes pre-installed on the iPad 2. Photo Booth is used to add effects to your personal photos. It comes with a limited selection of effects, the same ones that you can use with iChat, More can be added with a tweak to the system. Photo Booth effects can also be downloaded on the internet. You can use Photo Booth to take normal photos also.
Effects
The effects are used to change the appearance of of a photo.
Mac
The effects that come with the Max program are Sepia, Black and White, Glow, Comic Book, Color Pencil, Thermal Camera, X-Ray, Pop Art, Bulge, Dent, Twirl, Squeeze, Mirror, Light Tunnel, Fish Eye, Stretch, Clouds, Color Dots, Earthrise, Eiffel Tower, Fish, Rollercoaster, Sunset, and Yosemite. the latter eight require you to step out of the image momentarily so the program can analyze the back drop of the room you are in. This is done so that you do not get cut out of the picture. These types of effects work best if you do not wear clothing and/or have features that look like the background
iPad 2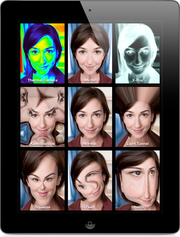 The effects that come with the iPad app are Thermal Camera, Mirror, X-Ray, Kaleidoscope, Light Tunnel, Squeeze, Twirl, and Stretch.
Features
Some of many features are "Flash" (which is your screen turning white) Video recording, Multi-photo taking, and taking still images. At the bottom of the window there is a preview of past photos or movies which you have taken or recorded.
Ad blocker interference detected!
Wikia is a free-to-use site that makes money from advertising. We have a modified experience for viewers using ad blockers

Wikia is not accessible if you've made further modifications. Remove the custom ad blocker rule(s) and the page will load as expected.