OmniWeb
is a
web browser
developed by the
Omni Group
for the
Mac OS X
operating system
. OmniWeb was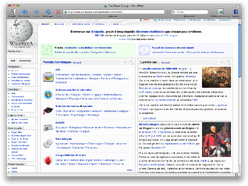 originally developed and released for the
NEXTSTEP
platform on
March 17
1995
. It is solely for OS X.
OmniWeb is developed using the Cocoa API.
OmniWeb originally employed its own proprietary HTML layout engine. However, the engine was not fully compatible with all of the most recent Internet standards, such as Cascading Style Sheets. In February 2003, the Omni Group officially decided to adopt the use of Apple's KHTML-based WebCore rendering engine, which was created by Apple for its Safari browser.
History
On August 11 2004, the Omni Group released version 5.0 of OmniWeb which included a number of new features. The most notable feature was an unusual implementation of tabbed browsing, in which the tabs were displayed vertically in a drawer on the side of the window (including optional thumbnail pictures of the pages) along the side of the window. Despite a certain amount of controversy over the merits of a tab drawer over tabs that actually look like tabs, the feature has persisted through the current version.
Features
Separate window form editing: Click the square in the upper right corner of multi line form fields to open it in a separate window [1]. This helps when you wish to add lots of text to an area which is very small and you want to see all of it at once. This feature also allows you to enter tab characters. Incidentally, Konqueror has the same function.
View Links: By clicking on this button in the toolbar, one can quickly view all the links contained in the page.
Ad blocking: OmniWeb uses a powerful pattern match ad blocking feature to stop images from loading from servers matching the pattern. It is also possible to block images that don't originate from the current server you are browsing and to block images which are the common advertisement size.
Shortcuts: allows one to type a word or partial address and end up in the correct place. See below for examples of shortcuts.
Site preferences: OmniWeb allows you to specify preferences that apply to specific websites.
OmniSaft is a plug-in for OmniWeb that adds a full-screen mode.
Sources and References
External links
Ad blocker interference detected!
Wikia is a free-to-use site that makes money from advertising. We have a modified experience for viewers using ad blockers

Wikia is not accessible if you've made further modifications. Remove the custom ad blocker rule(s) and the page will load as expected.