Mini DisplayPort is a smaller version of VESA's 20-pin DisplayPort connection interace. Mini DisplayPort was released by Apple in October 2008. Apple uses the port in the MacBook family and its desktop line. Despite its small size, Mini DisplayPort has a full 20 pins and can support up to a 30-inch display with a 2560 by 1600 screen resolution. The connection can be used in Apple's displays and some Collins America screens. This is replaced by the Thunderbolt port.
Pinout
Pin 1
GND
Ground
Pin 2
Hot Plug Detect
Hot Plug Detect
Pin 3
ML_Lane 0 (p)
Lane 0 (positive)
Pin 4
CONFIG1
CONFIG1
Pin 5
ML_Lane 0 (n)
Lane 0 (negative)
Pin 6
CONFIG2
CONFIG2
Pin 7
GND
Ground
Pin 8
GND
Ground
Pin 9
ML_Lane 1 (p)
Lane 1 (positive)
Pin 10
ML_Lane 3 (p)
Lane 3 (positive)
Pin 11
ML_Lane 1 (n)
Lane 1 (negative)
Pin 12
ML_Lane 3 (n)
Lane 3 (negative)
Pin 13
GND
Ground
Pin 14
GND
Ground
Pin 15
ML_Lane 2 (p)
Lane 2 (positive)
Pin 16
AUX_CH (p)
Auxiliary Channel (positive)
Pin 17
ML_Lane 2 (n)
Lane 2 (negative)
Pin 18
AUX_CH (n)
Auxiliary Channel (negative)
Pin 19
GND
Ground
Pin 20
DP_PWR
Power for connector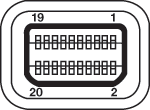 Gallery
Ad blocker interference detected!
Wikia is a free-to-use site that makes money from advertising. We have a modified experience for viewers using ad blockers

Wikia is not accessible if you've made further modifications. Remove the custom ad blocker rule(s) and the page will load as expected.