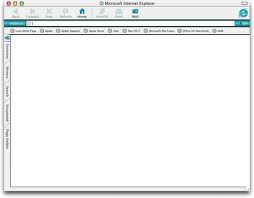 Microsoft Internet Explorer (MSIE or IE) was a Web browser created by Microsoft that runs on Macs. Internet Explorer is always integrated into all Windows operating systems, such as Windows XP, Windows Vista, and Windows 7.
Internet Explorer on Macs as of now
On July 13, 2003, Microsoft announced that Internet Explorer will no longer run on Macs, and the last version was made on July 11, 2003. Microsoft Internet Explorer 5.2.1 was the last Macintosh version. Although on some sites, it is claimed that one can run Internet Explorer on Mac, but only for older versions.
Ad blocker interference detected!
Wikia is a free-to-use site that makes money from advertising. We have a modified experience for viewers using ad blockers

Wikia is not accessible if you've made further modifications. Remove the custom ad blocker rule(s) and the page will load as expected.