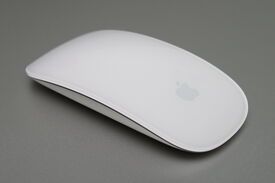 The Magic Mouse is a multi-touch mouse manufactured and sold by Apple, and it was announced and sold for the first time on October 20, 2009. The Magic Mouse is the first consumer mouse to have multi-touch capabilities.Taking after the iPhone, iPad, iPod Touch, and multi-touch Trackpads, the Magic Mouse allows the use of gestures such as swiping and scrolling across the top surface of the mouse to interact with desktop computers. It connects via Bluetooth and runs on two AA batteries.
The mouse requires at least Mac OS X 10.5.8. It can be configured as a two-buttoned left-handed or right-handed mouse, but the default is a single button. It uses laser tracking for increased pointer accuracy over previous generation Apple mice. Since its release, it has been included along with a wireless keyboard with the 2009 generation of iMacs, and with a wired keyboard with the 2010 Mac Pro workstations. It can also be purchased separately.
Initial reception to the Magic Mouse was mixed, with positive reactions to its scrolling functions but negative reactions to its inability to middle click]] (without any additional software), or trigger Exposé, Dashboard or Spaces (features offered by its predecessor). Many of those features can be enabled on the Magic Mouse with the use of third party tools. In 2009, a couple of Mac news sites reported that the Magic Mouse had issues with maintaining a stable connection to Mac Pro workstations. The software update, but it could also be enabled in Leopard with a terminal command.
Operating system support
Mac OS X v10.5.8, v10.6.1 or later with Wireless Mouse Software Update 1.0. This update is essential for the Magic Mouse to work.
Windows 7, Windows XP, Windows Vista using Boot Camp tools under Mac OS X. To work with Windows 7, Mac OS X Snow Leopard is required as the latest drivers are available only with a version of Boot Camp that is installable on Mac OS X Snow Leopard.
Extracted from Boot Camp-native Windows XP, Vista and Windows 7 drivers, 32-bit and 64-bit
Ad blocker interference detected!
Wikia is a free-to-use site that makes money from advertising. We have a modified experience for viewers using ad blockers

Wikia is not accessible if you've made further modifications. Remove the custom ad blocker rule(s) and the page will load as expected.