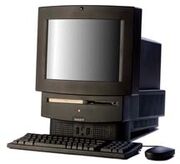 The Macintosh TV was Apple's first attempt at computer-television integration. It shared the external appearance of the Macintosh LC 500 series, but in black. The Macintosh TV was essentially a Macintosh LC 520 that could switch its built-in 14" Sony Trinitron CRT from being a computer display to a cable-ready television. It was incapable of showing television feeds in a desktop window, although it could capture still frames to PICT files.
One of the reasons cited for its failure was its sub-par graphics performance. Combined with this and its crippled 16 MHz bus speed, it made for both a poor computer when compared with Apple's other offerings and an expensive TV, leaving most to opt for separate products.
It came with a small credit card-sized remote control that was also compatible with Sony televisions. It was the first Macintosh to be made in black and came with a custom black keyboard and mouse. Later Apple would issue a custom black Macintosh Performa 5420 in markets outside the United States with many of the features of the Mac TV. The Mac TV tuner card was a popular option for the LC & Performa series.
Only 10,000 were made in the model's short time on the market.
Software Included with Macintosh TV
System 7.1
Finder 7.1
LaserWriter 7.1.2
CD-ROM (includes Apple CD-ROM, Foreign File Access, Apple Photo Access, etc.)
Apple Video Player (includes Video Startup extension)
QuickTime 1.6.1
Macintosh Drag 'n' Drop
Sound Manager
TV Setup
See Also
Ad blocker interference detected!
Wikia is a free-to-use site that makes money from advertising. We have a modified experience for viewers using ad blockers

Wikia is not accessible if you've made further modifications. Remove the custom ad blocker rule(s) and the page will load as expected.