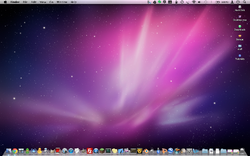 Mac OS X Snow Leopard (version 10.6) is the seventh major release of Mac OS X, Apple's desktop and server operating system for Macintosh computers. Snow Leopard was publicly unveiled on June 8, 2009 at the Apple Worldwide Developers Conference. On August 28, 2009, it was released worldwide, and was made available for purchase from Apple's website and its retail stores at the price of US$29 for a single-user license. As a result of the low price, initial sales of Snow Leopard were significantly higher than that of its predecessors The release of Snow Leopard came nearly two years after the introduction of Mac OS X Leopard (version 10.5), the second longest time span between successive Mac OS X releases.
The rewrite of Finder in Apple's native Cocoa API allows the Finder to take advantage of the integrated 64-bit technology, as well as Grand Central Dispatch, use a more user-friendly disk-eject (clearer dialogs will notify the user of what services or programs are using a given disk), and provides it a more responsive overall feel.
The new Safari 4 includes a boost in JavaScript and HTML performance, which results in faster web browsing. The majority of this performance boost is enabled by the new SquirrelFish JavaScript interpreter, improving the JavaScript rendering performance of Safari by over 50%.[1] The new Top Sites also displays the most frequently visited and/or bookmarked sites in a panorama view, allowing the user to easily access their favorite sites along with a new Cover Flow view for the user's browsing history. Safari 4 is now also more crash resistant, being able to isolate plug-ins which are the number one cause of web browser crashes.[2]
Mac OS X v10.6 also features Microsoft Exchange Server support for Mail, iCal, and Address Book, new 64-bit technology capable of supporting greater amounts of RAM, an all-new QuickTime X with a refreshed user interface and more functionality that used to be only available to QuickTime Pro owners.
Back-end platform changes include improved support for multi-core processors through Grand Central Dispatch which attempts to ease the development of applications with multi-core support, and thus improve their CPU utilization. It used to be that developers needed to code their programs in such a way that their software would explicitly take advantage of the multiple cores, which could easily become a tedious and troublesome task, especially in complex software. It also includes advanced GPU performance with OpenCL (a cross platform open standard for GPGPU distinct from CUDA, Dx11 Compute Shader or STREAM) by providing support to offload work normally only destined for a CPU to the graphic card's GPU. This can be especially useful in tasks that can be heavily parallelized.
Snow Leopard only supports machines with Intel CPUs, requires at least 1 GB of RAM, and drops default support for applications built for the PowerPC architecture (Rosetta can be installed as an additional component to retain support for PowerPC-only applications).
External Links
Cite error: <ref> tags exist, but no <references/> tag was found