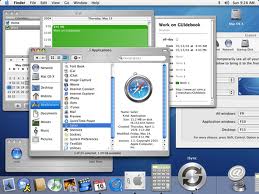 Mac OS X version 10.3 Panther
, is the fourth major release of
Apple Inc.
's
operating system
Mac OS X
. The previous release was called
Mac OS X 10.2 "Jaguar"
, and the following release was
Mac OS X version 10.4 "Tiger"
. Apple charged USD 129.00 for a single-user license and USD 199.00 for a Family Pack (5 user, 1 household) license.
Apple released Panther on October 24, 2003. Apple claimed that Panther had at least 150 new features, including:
Finder updated interface

Brushed-metal interface
Real-time searching (like iTunes)
Customisable sidebar (like iTunes)

Fast User Switching, that allows a user to remain logged in while another user logs in feature, featuring the desktop on an animated cube (the effect is only seen on systems with Quartz Extreme). Windows XP has a similar feature without an animated cube.
Exposé, a program to help the user manage windows, especially large numbers of them.
Fax support built-in.
X11 support built-in.
TextEdit support for Microsoft Word (*.doc) documents.
Microsoft Windows interoperability improvements, including support for SecurlD-based VPNs.
Security
Xcode Developer Tools, which speed compile times significantly with gcc 3.3.
iChat AV video-conferencing software
PDF rendering speed increases
File labels are back!
Pixlet high definition video codec (for digital animation, of Pixar fame) included
Version history
Sources and References
External links
Ad blocker interference detected!
Wikia is a free-to-use site that makes money from advertising. We have a modified experience for viewers using ad blockers

Wikia is not accessible if you've made further modifications. Remove the custom ad blocker rule(s) and the page will load as expected.