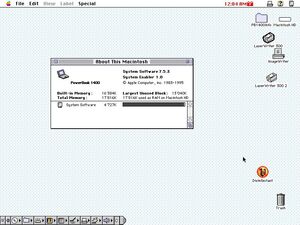 Mac OS 7.5.3, otherwise known as System 7.5.3, was a version of the Mac OS that was released on January 1, 1996.
Plagued by the errors of its predecessor, Mac OS 7.5.2 (which ran on no Macs except for the new PCI Power Macs and PowerBooks), Apple attempted to set the record straight with a standarised system which required no enablers to run. Along with the update, numerous bugs were squashed, and some system compenents were updated.
Improvements
The improvements included:
Versions of Mac OS 7.5.3
System Requirements
Mac OS 7.5.3 requires a Mac with at least 4 MB of RAM.
External Links
Mac OS (System) 7.5.3 download (from the Apple servers)