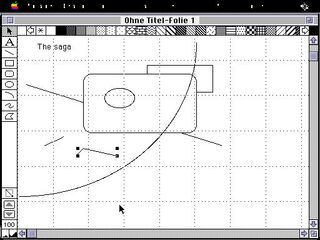 MacDraw was a vector-based drawing program much in the style of MacPaint and MacWrite on the early Macintosh computers. While MacPaint worked with bitmapped images, MacDraw would work on drawing objects that could be placed independently of each other.
Vector graphics applications were less popular than paint programmes as they were more difficult to manipulate pixel-wise.
MacDraw eventually evolved into MacDraw II and MacDraw Pro, and ultimately ClarisDraw.
Sources and References
See also
Ad blocker interference detected!
Wikia is a free-to-use site that makes money from advertising. We have a modified experience for viewers using ad blockers

Wikia is not accessible if you've made further modifications. Remove the custom ad blocker rule(s) and the page will load as expected.