Macbook (Retina)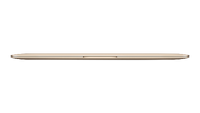 Creator: Apple
Released: April 10, 2015
Price: $1299
Product is currently available.

The MacBook (marketed as the "New Macbook") is a line of Macintosh portable computers introduced in March 2015 by Apple Inc. The MacBook has a similar appearance to the MacBook Air, but is thinner and lighter, and is available in space gray, silver and gold. Other features include a high-resolution Retina Display, a Force Touch trackpad, a redesigned keyboard, and only two ports: a headphone jack and USB 3.1 Type-C port for charging, data transfer and video output. In the Macintosh product line, the MacBook sits between the MacBook Air and MacBook Pro in terms of average specifications. Notably, the base model MacBook has a 256GB SSD and 8GB of RAM, double that of the MacBook Air base models.
Ad blocker interference detected!
Wikia is a free-to-use site that makes money from advertising. We have a modified experience for viewers using ad blockers

Wikia is not accessible if you've made further modifications. Remove the custom ad blocker rule(s) and the page will load as expected.