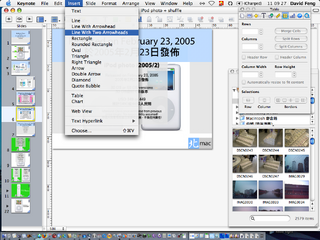 Keynote 2 was presentation software from Apple Inc. It was released on January 11, 2005, during the Keynote speech at the Macworld Conference & Expo San Francisco 2005 in San Francisco, California, USA.
Keynote 2 is a vast improvement over the original Keynote. It allows builds to be executed automatically, and sometimes even with another build. Transitions were also expanded.
Like Pages, there is a Media Browser to import music from iTunes, photos from the iPhoto Library, and movies stored loose in the Movies folder.
External links
Ad blocker interference detected!
Wikia is a free-to-use site that makes money from advertising. We have a modified experience for viewers using ad blockers

Wikia is not accessible if you've made further modifications. Remove the custom ad blocker rule(s) and the page will load as expected.