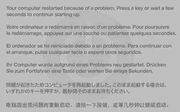 A kernel panic is like a Black or Blue Screen of Death for Mac OS X, which uses a UNIX-based kernel. The screen, translated in many different languages, simply tells the user that the computer has restarted and is recovering from an error.
History
Before Mac OS X 10.2, the details of the kernel panic were simply dumped to the screen.
In Mac OS X 10.2, a white message shows up that informs you need to restart your computer. This design lasted for several iterations of OS X, and in OS X versions between 10.3 and 10.7, the message shown is not full-screen and is on a black background.
Ad blocker interference detected!
Wikia is a free-to-use site that makes money from advertising. We have a modified experience for viewers using ad blockers

Wikia is not accessible if you've made further modifications. Remove the custom ad blocker rule(s) and the page will load as expected.