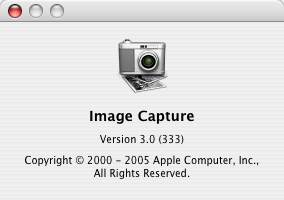 Image Capture is an application programme from Apple Inc. It comes with all versions of Mac OS X and is in the Applications folder.
Image Capture can be set up to download images from the user's digital camera to the hard drive automatically, as soon as a camera is plugged in. Alternatively, the application alone can be launched alone and the downloading be done by the user's own selections in Image Capture.
Image Capture also provides a significant number of options and automated tasks. For example, the user can set a size at which the imported pictures are to be saved, or a web page can be created automatically.
iPhoto's arrival on Mac OS X has made Image Capture less relevant, but some users still prefer the faster Image Capture.