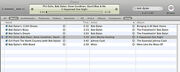 iTunes 5 is a version of the Apple iTunes music software released on September 7, 2005.
New features include:
Smaller, refined look, and a left sidebar akin to that in Mail in Mac OS X 10.4
The display at the top lists both the artist and song together
Playlists (Smart playlists and normal playlists) may be grouped in folders
New search bar searches local and iTunes Music Store content with more options
Calendars and contacts can now be synchronized with Outlook Express (contacts only) and Microsoft Outlook
Album reviews
Support for the playback and creation of Variable Bitrate AAC files
Parental Controls to restrict children's access to the iTunes Music Store and sharing features, as well as to limit explicit content
Lyrics tab in track info box
Ability to skip over songs in shuffle mode (useful for iTrip radio station files)
Ad blocker interference detected!
Wikia is a free-to-use site that makes money from advertising. We have a modified experience for viewers using ad blockers

Wikia is not accessible if you've made further modifications. Remove the custom ad blocker rule(s) and the page will load as expected.