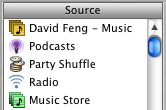 iTunes 4.9 was released on June 28, 2005.
iTunes 4.9 allows users to browse and subscribe to podcasts from within the iTunes Music Store. Users can also transfer podcasts to an iPod for listening on the go.
System Requirements
iTunes 4.9 requires Mac OS X 10.2.8 or later (Mac OS X 10.4.1 or later is recommended.
For Windows, either Windows 2000 or Windows XP is recommended.
Ad blocker interference detected!
Wikia is a free-to-use site that makes money from advertising. We have a modified experience for viewers using ad blockers

Wikia is not accessible if you've made further modifications. Remove the custom ad blocker rule(s) and the page will load as expected.