iTunes 4.7.1
is a music jukebox and an iApp from
Apple Inc.
, with access to the
iTunes Music Store
. It was released on January 11, 2005 during the
Keynote speech
at the
Macworld Conference & Expo San Francisco 2005
in San Francisco, California, USA.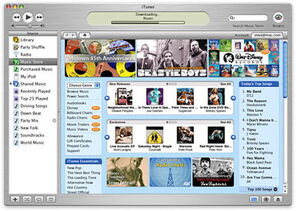 As an upgrade to the iTunes software, iTunes 4.7.1 supports the iPod shuffle and enables Autofill to the iPod shuffle.
Issues with iTunes 4.7.1
If a song (MP3 or AAC) has album art which is corrupted (i.e. pure white or uneditable), all album art may not show up on an iPod photo. An error -2003 occurs about a third of the way through the process where album art is being uploaded to the iPod photo. Deleting the iTunes Preference File does not work. [1]
Related articles
External links
Ad blocker interference detected!
Wikia is a free-to-use site that makes money from advertising. We have a modified experience for viewers using ad blockers

Wikia is not accessible if you've made further modifications. Remove the custom ad blocker rule(s) and the page will load as expected.