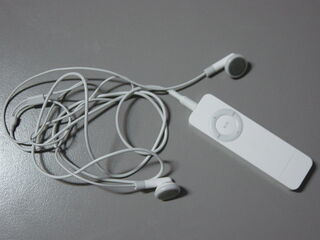 iPod shuffle is a flash memory-based portable music player from Apple Inc. It was released on January 11, 2005, during the Keynote speech at the Macworld Conference & Expo San Francisco 2005 in San Francisco, California, USA.
iPod shuffle has no visual display unit. Its main function is to play music in a random order, thus earning its slogan, "Life is random."
iPod shuffle is smaller than a pack of chewing gum, and much more fun, leading Apple's website to warn users and potential buyers to not the eat the iPod shuffle!
Models and Pricing
On June 28, 2005, the 1 GB version of the iPod shuffle had its price lowered down to USD 129 (instead of USD 149). Then following the release of the iPod Nano, the price of the 1 GB version came down to USD 99, and the 512 MB Version lowered to 69 (was before $69)
On Sept 12, 2006, during Apple's It's Showtime event, the iPod Shuffle was given an aluminum enclosure, reduced in size and in price (to $79), and now is only sold in 1 GB capacities.
On January 30, 2007, the iPod shuffle was refreshed. it still has the same form factor, but now comes in 5 colors: Pink, Green, Blue, and Silver (original color), which are the same as the iPod Nano, and a new color, orange. They are all still in the same aluminum enclosure. These were not offically announced, though the online Apple Store went down for a few hours. The price remains the same. The packaging changed, however, where the shuffle symbol on the paper stock was green, it now matches the color of the shuffle enclosed. The headphones were also updated to a much better model.
Size
The capacity for the iPod shuffle is 1 GB, which can hold up to 240 songs (based on a standard of 4 minutes per song in AAC format). A smaller version (512 MB) is no longer sold. Storage can be doubled if mono AAC songs are stored.
iTunes 4.7.1 and later revisions, which support the iPod shuffle, actually contains a switch (in iPod Preferences), which allows the user to choose between how much space is given to the iPod for music and for other data files. Like other iPods, disk mode can be activated, and on a USB 2.0 connection, the transfer speeds virtually equate to that of FireWire disk mode.
Functions
Playlist
iPod shuffle can play songs either according to a set order in the playlist, or can play songs from that playlist in a random order ("shuffle"). This is controlled by means of a slider. No bit of green showing means that the iPod shuffle is in play in order mode; a bit of green showing indicates that the music will be shuffled.
Hold mode
Like other iPods, hold mode is available on the iPod shuffle, although activating it is more tricky. To switch hold mode on, hold down the play/pause button for three seconds until the LED flashes green three times. A sign that hold mode is on can be seen when the user presses any button; a orange LED flashes (instead of a green LED when hold mode is off).
To switch hold mode off, hold down the play/pause button for three second until the LED flashes orange three times.
Buttons (front side)
The side with the rounded buttons contains two buttons with five functions. The central button is the play/pause button. From the topmost button on the outside ring-shaped button in clockwise order, there are the volume up, forward, volume down and reverse buttons.
Battery Meter
There is no battery meter at the back of the newer iPod shuffle. However, older models allowed you to press the button next to the battery icon (just like on an iBook or PowerBook). A green light indicates a full charge; yellow indicates a low charage; red indicates a battery on its last legs, and no light at all indicates a dead (battery-wise) iPod shuffle.
Autofill
Autofill is a special function where a playlist can be chosen in iTunes 4.7.1 and later versions of iTunes for the iPod shuffle to fill in songs.
Troubleshooting
Resetting an iPod shuffle is easy. Just slide the iPod shuffle's back switch to "off" position for five seconds, and slide it back again.
Mac OS Compatibility
On the same day that the iPod shuffle was introduced, Apple introduced iTunes 4.7.1, which enabled Autofill functionality and recognition for the iPod shuffle, as well as iPod Updater 2005-01-11, the first version of the iPod system software updater to support the iPod shuffle.
iTunes 4.7.1 has an option which keeps the iPod shuffle icon in iTunes even after the iPod shuffle is disconnected -- a first in iTunes for an iPod. (It's easy to spot if an iPod shuffle is connected; if there is an iPod connected, an eject button appears next to its name in the Sources list in iTunes.)
Multiple iPod Compatibility
iPod shuffle does not fully maintains all play count, rating and other song-related information.
Accessories
Shuffle does not update playcount
Related articles
zh:iPod shuffle
Ad blocker interference detected!
Wikia is a free-to-use site that makes money from advertising. We have a modified experience for viewers using ad blockers

Wikia is not accessible if you've made further modifications. Remove the custom ad blocker rule(s) and the page will load as expected.