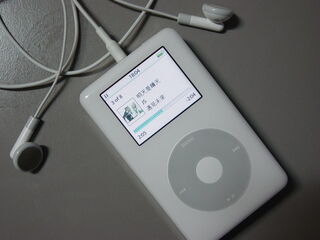 On October 26, 2004, Apple Inc. unveiled the iPod Photo. In November it was quietly renamed the iPod photo, with the second word no longer capitalized, apparently to bring it in line with the naming scheme of the iPod mini.
On June 28, 2005, the iPod photo series merged with the fourth generation iPods. All future iPods would have a colour display (except for the iPod mini and the monitorless iPod shuffle).
The iPod photo is a hard drive-based music player nearly identical to the 4G click-wheel iPod. However, unlike earlier models which were monochrome, its 220x176 pixel LCD display is capable of displaying up to 65,536 colors. It also offers hard drives in 40GB and 60GB sizes. These enhancements allow users to store and display photos on the iPod photo.
Models
On February 23, 2005, a 30 GB version was introduced while the 40 GB version was retired. Along with lowered prices (USD 349 for the 30 GB version, and USD 449 for the 60 GB version), however, also came less accessories; for example, the Dock Connector is now optional instead of being included. Some cables, too, also are no longer part of the package. However, Apple did offer, for USD 29, offer the iPod Camera Connector (available as of March 2005).
Features
Music
The iPod photo can play MP3, WAV, AAC/M4A, Protected AAC, AIFF, Audible audiobook, and Apple Lossless file formats. It cannot play RealAudio files, but the Windows version of iTunes has a feature that can convert unprotected WMA files to acceptable formats.
Photo
The iPod photo supports JPEG, BMP, GIF, TIFF, and PNG graphic file formats, and can be attached to a TV for slideshows. Apple's advertised battery life for continuous music playback is fifteen hours, or five hours for a continuous slideshow with music.
Extras
The iPod photo has additional support for PDA-like functions. By synchronising it via iSync, contents from the Address Book and iCal can be copied onto the iPod, alarms intact. It can also store text-based notes (even multilingual ones). A sleep timer and an alarm timer is also available, as is a clock.
Four games -- Brick, Music Quiz, Parachute and Solitaire -- are also available on the iPod.
Additional extensible features of the iPod photo include Photo Import and Voice Memos. These, however, require optional third-party accessories.
Software
Synchronisation
The iPod photo does all of its music and photo synchronisation in iTunes; however, iPhoto version 4.0.3 or a later version is required for photo synchronisation, even though the photo sync never requires any controls to be tweaked in iPhoto.
The iPod is synchronised in such a fashion that all the music is synchronised first. Given that there is sufficient space remaining, photo synchronisation follows until either the iPod photo is filled to the brim or the entire photo synchronisation is completed.
While the photos are prepared for the synchronisation, the Mac stores cached versions of the images in the iPod photo Cache folder inside the iPhoto Library folder. This folder alone can get very big. Apple says that this folder can be thrown away after a photo sync.
Versions of iLife beginning with iLife '05 are fully compatible with the iPod photo.
Accessories
See also
Sources and References
External link
Ad blocker interference detected!
Wikia is a free-to-use site that makes money from advertising. We have a modified experience for viewers using ad blockers

Wikia is not accessible if you've made further modifications. Remove the custom ad blocker rule(s) and the page will load as expected.