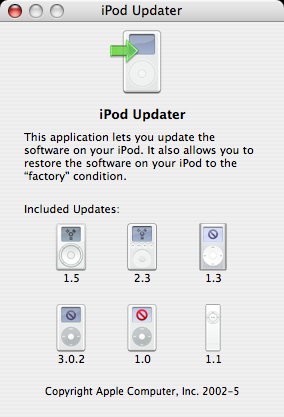 iPod Updater 2005-02-22 is a software update for the iPod. It was released on February 22, 2005.
New features
iPod Software Updates included in this Updater
This Updater comprises of software for the iPod 1G (Scroll Wheel iPod), iPod 2G (Touch Wheel iPod), iPod 3G (iPod with Dock Connector), iPod 4G (Click Wheel iPod), iPod mini, iPod photo and iPod shuffle.
The different versions included are:
Ad blocker interference detected!
Wikia is a free-to-use site that makes money from advertising. We have a modified experience for viewers using ad blockers

Wikia is not accessible if you've made further modifications. Remove the custom ad blocker rule(s) and the page will load as expected.