iPod Games is a feature added along with the iPod 5G on 12 September 2006. It was announced at Apple's "It's Showtime" event by CEO Steve Jobs. Games were made available for $4.99 from the iTunes Store and designed specifically to be used with the iPod's controls. Currently iPod Games are only available for use with 5G iPods, and they are the only items that can be downloaded from the iTunes store which cannot be used from within iTunes. It has been replaced by Apps.
Certain games, such as PAC-MAN and Tetris have been criticised for awkward controls.
Games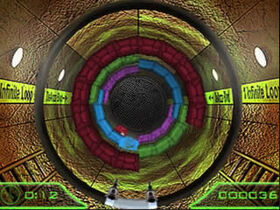 The Launch line-up consisted of 9 games which are:
Vortex - A circular 3D breakout type game.
Tetris - A remake of the classic game where the objective is to get lines of blocks.
PAC-MAN - A remake of the arcade classic which involes the character "PAC-MAN" eating pellets while avoiding ghosts.
Cubis 2 - A puzzle game which is played by sliding blocks.
Zuma - A game where the objective is to create lines of coloured balls by elimating others.
Texas Hold'em - A shared-card poker game.
Mini Golf - A mini golf game played from a top down view.
Mahjong - A game based on the popular Chinese board game.
Bejeweled - A puzzle game where you have to match gems.
It is assumed that more games will be released in the future.
Ad blocker interference detected!
Wikia is a free-to-use site that makes money from advertising. We have a modified experience for viewers using ad blockers

Wikia is not accessible if you've made further modifications. Remove the custom ad blocker rule(s) and the page will load as expected.