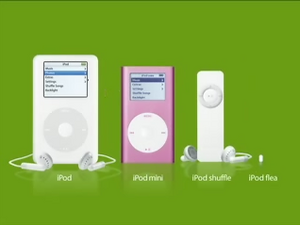 With the success of Apple's advertising, and the "hoopla" surrounding each iPod revision and revealing, numerous parodies were produced to add a bit of humor to the culture craze. These spoofs were usually done in either print or video form, and often distributed on the Internet in the new format of viral advertising or video.
One such spoof was introduced in the summer of 2005 by a team consisting of Scott Kelby (an Adobe Photoshop expert), Felix Nelson, Matt Kloskowski, and Dave Cross. The sensational new product at the focus of the video was the iPod flea. David Pogue, the Emmy-winning technology correspondent for CBS and the New York Times, debuted the video at a Mac Design Conference he was keynoting.
The video stars Michael and Stephanie Cross. Live-action shots are interspersed with product shots in keeping with Apple's advertising style (solid color swatch background, centered product, simple statements in Myriad font, etc.). Voice talent Jack Dennis — one of the "signature" voices for such things as movie trailers, commercials, and narrations — was even contracted to provide the voice-over narrations. The products themselves, while far-fetched, are altered and presented in a manner that is quite believable to keeping to Apple's "style".
The Concept
The iPod Flea is an exceptionally small device, with a "microscopic button" and capable of holding a single MP3 audio track. It is the size of a Tic Tac, since, in fact, a Tic Tac is what the actual object is. There are a variety of color offerings (again, Tic Tacs), presented in a redressed Tic Tac case (or box) called the Flea Infestation Kit. Its power sink is able to last on continuous looping play for one hour. Recharging is done by a car battery and jumper cables affectionately called the iPod Tic.
There are also a slew of other accessories, such as the Flea & Tic Control, the iPod flea Bag, and iPod flea Collar.
The iPod flea is interfaced through iTunes, with songs downloaded from a special section for the Flea called the Flea Market.
Sources
See also
Ad blocker interference detected!
Wikia is a free-to-use site that makes money from advertising. We have a modified experience for viewers using ad blockers

Wikia is not accessible if you've made further modifications. Remove the custom ad blocker rule(s) and the page will load as expected.