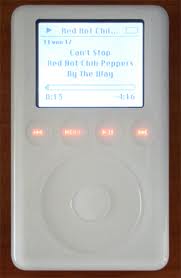 The iPod 3G (third-generation iPod) was introduced in 2003 and remained available through July 2004.
Models
iPod 3G (5 GB)
iPod 3G (10 GB)
iPod 3G (15 GB)
iPod 3G (20 GB)
iPod 3G (40 GB)
New Features
The iPod 3G added backlighting to all buttons -- the only iPod to do so. The scroll wheel was totally redone, with four buttons at the top, and a touch-sensitive scroll wheel below the four buttons. The major feature that was introduces with this iPod was the 30pin dock connector that is still used on some iPods to this day. This is a propriatary connector that has audio, video, power, controls, as well as many other auxilliary connectors all in one. There have been countless accesories made for this connector standard and it has been a huge success. This connector was replaced by the lightning connector which is used in all newest-generation iPods.
Ad blocker interference detected!
Wikia is a free-to-use site that makes money from advertising. We have a modified experience for viewers using ad blockers

Wikia is not accessible if you've made further modifications. Remove the custom ad blocker rule(s) and the page will load as expected.