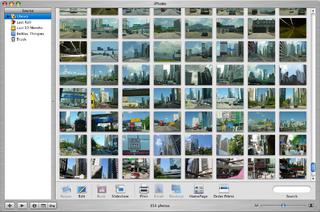 iPhoto 5 is a photo management application and an iApp from Apple Inc. It was released on January 11, 2005, during the Keynote speech at the Macworld Conference & Expo San Francisco 2005 in San Francisco, California, USA.
As an upgrade to the iPhoto software, iPhoto 5 adds in support for exposure, black and white points, saturation, tint, temperature and sharpness adjustment tools.
In addition, iPhoto 5 also adds support for uncompressed RAW photos, a new and advanced slideshow builder, a new way to create photo books (hardcover and softcover), and many more new features.
One of the most important new features is the calendar feature, which allows you to view photos according to when they were taken. Also, photo projects and hierarchical folders were added. Finally, a search field was added in the main window.
Troubleshooting
While upgrading from iPhoto 4 to iPhoto 5, some people may experience the "albums disappearing" effect. While dragging albums created in iPhoto 4 into folders, some albums may disappear. This happens when:
One or more albums are already in the folder
Adding another album into the folder
The album has never been in a folder
The album was created in iPhoto 4
Apple has released iPhoto 5.0.1 to remedy this problem. Note this update is only available through Software Update.
External links
Ad blocker interference detected!
Wikia is a free-to-use site that makes money from advertising. We have a modified experience for viewers using ad blockers

Wikia is not accessible if you've made further modifications. Remove the custom ad blocker rule(s) and the page will load as expected.