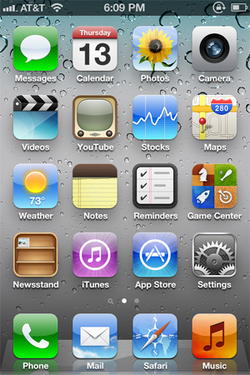 iOS 5 "Telluride" was the 5th major release of iOS for the iPhone, iPad, and IPod Touch. iOS 5 was released on 12 October 2011 and was downloaded at iTunes.
New Features included but were not limited to:
Newsstand
Reminders
Integration
Can play content while device is synching with iTunes
Group by Album Artist option in Music
Shortcut to Camera from Lockscreen
Able to flag emails
Reading List in Safari
Search within a web page (iPad 2 only)
Private Browsing
FaceTime without a SIM (iPhone only)
Siri (iPhone 4S only)
Hide keyboard (iPad only)
Tabbed Browsing (iPad only)
Trivia
Initial release on iPhone 4S
iPhone 3G and 2nd generation iPod Touch were not supported on this release
iPad (1st generation) and iPod touch (3rd generation) had limited support
iPhone 3GS, iPhone 4, iPhone 4S, iPod touch (4th generation), iPad 2 and iPad 3 were all fully supported
5.x.x Releases
iOS 5 (12 October 2011)
iOS 5.0.1 (10 November 2011)
iOS 5.1 (March 7, 2012)
iOS 5.1.1 (May 8, 2012)
Ad blocker interference detected!
Wikia is a free-to-use site that makes money from advertising. We have a modified experience for viewers using ad blockers

Wikia is not accessible if you've made further modifications. Remove the custom ad blocker rule(s) and the page will load as expected.