iOS 10 is the newest version of iOS that was released on September 13, 2016, after the iPhone 7 release. It was the successor of iOS 9It features richer notifications, more accuracy on Siri, and installing stickers and enlarging messages in iMessage.
Here are some things it includes:
Swift Playgrounds, a game where you can create your own game and learn serious code in any way. It was released with the update.
New news app layout.
New home wallpaper.
Major improvements in Siri. This includes developers being able to use the new SiriAPI.
New features in iMessage, such as bigger emojis, Digital Touch (as seen in the Apple Watch Series 1), an iMessage App Store, and others.
New home app, where you can control your own HomeKit accessories.
New Apple Music layout.
Bug fixes and improvements.
iPhone 6s users can use 3D Touch on notifications so they can reply to messages more quickly.
On an iPad, you can now have a Split Screen view of 2 websites in Safari. 
You could delete some apps that you don't want such as home, news, etc. 
Animation in iMessage.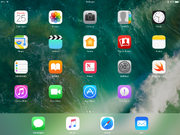 Compatibility
Below is a list of iPhones, iPads, and iPods that are compatible with iOS 10.
iPhones
iPads
iPods
Incompatibility
With the release of iOS 10, Apple dropped support for multiple devices with an A5 or A5X chip. Below is a list of iPhones, iPads, and iPods that are not compatible with iOS 10.
iPhones
iPads
iPods
Trivia
External links
Gallery