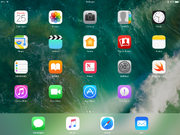 iOS 10 is the tenth version of iOS that was released on September 13, 2016, after the iPhone 7 release. It is the successor of iOS 9 and the predecessor to iOS 11. It features richer notifications, more accuracy on Siri, and installing stickers and enlarging messages in iMessage.
Here are some things it includes:
App Store – brings back the "Categories" section, and organizes user reviews into "Helpful" and "Not Helpful" for developers. Developers can also buy advertisement spots when users search for content.
Calendar – has more settings: type of calendar, day of the week a calendar starts on, and alerts for birthdays and events
Swift Playgrounds – a game where you can create your own game and learn serious code in any way. It was released with the update.
Camera – Live Photos can be taken with filters, and music will no longer stop playing when the app is launched
Clock – new "Bedtime" feature and new stopwatch face.
Contacts – set default phone numbers and email addresses for contacts. Also a user can add and remove contacts from their Favorites list.
Home – a new app that allows users to manage appliances compatible with HomeKit.
Mail – easier unsubbing from mailing lists, re-added support for HTML5, filtering of messages by unread/read or by categories, changes to email threading.
Maps – scans calendar events for locations, learns from a user's typical actions, and redesigned driving view. New parked car indicators. Finds the nearest gas station, fast food restaurant or coffee shop. Third-party extension support. Displays current temperature and weather conditions in bottom right corner of screen.
Messages – incorporates its own App Store for stickers, games, and rich content. Visual effects and handwritten notes added. New emojis.
Music – redesigned. "For You" section has been reorganized, with a playlist offering daily music recommendations. Lyrics are viewable for songs in-app. "Optimized Storage", "Downloaded Music" options and tabs added.
News – redesigned, taking cues from Apple Music's layout
Notes – collaboration feature added.
Photos – sorts and searches the Photos app through deep learning. Memories feature added. Add doodles or text onto a photo. Live Photos can be edited. Auto-enhance feature upgraded.
Phone – transcribes received visual voicemails
Compatibility
Below is a list of iPhones, iPads, and iPods that are compatible with iOS 10.
iPhones
iPads
iPods
Incompatibility
With the release of iOS 10, Apple dropped support for multiple devices with an A5 or A5X chip. Below is a list of iPhones, iPads, and iPods that are not compatible with iOS 10.
iPhones
iPads
iPods
Trivia
External links
Gallery