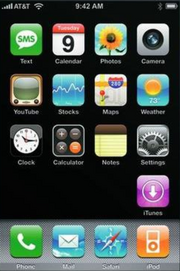 iOS 1 was the first iOS made. It is the main operating system for First generation iPod touches and First generation iPhones.
Similarities with iOS 5
iOS 1 is very similar with iOS 5 and iOS 4. Mostly, it lacked a lot of the newer features like Notification Center, Multitasking and Reminders. The user interface was slightly different too, namely the lack of a 3D-like dock. It also had a lot of wallpapers built in. The OS was definitely faster then today's, but at the time it was revolutionary.
Trivia
This was originally called iPhone OS 1.0
Before the name iPhone OS, Apple said the iPhone runs a version of OS X.
Ad blocker interference detected!
Wikia is a free-to-use site that makes money from advertising. We have a modified experience for viewers using ad blockers

Wikia is not accessible if you've made further modifications. Remove the custom ad blocker rule(s) and the page will load as expected.