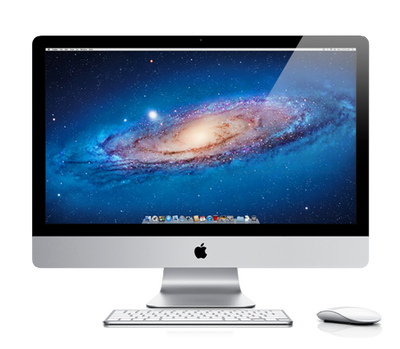 The iMac is a range of desktop Macintosh computers designed and built by Apple Inc. It has been a large part of Apple's consumer desktop offerings since its introduction in 1998, and has evolved through four distinct forms. In its original form, the iMac G3, the iMac was gum drop- or egg-shaped with a CRT monitor, mainly enclosed by colored, translucent plastic. The second major revision, the iMac G4, moved to a design of a hemispherical base containing all the main components and an LCD monitor on a freely moving arm attached to the top of the base. The iMac G5 and the Intel iMac placed all the components immediately behind the display, creating a slim design that tilts only up and down on a simple metal base. The current iMac shares the same form as the previous models, but is now thinner and uses brushed aluminum and black-bordered glass for its case.
Like other Apple products, the iMac enjoys a relatively high profile in popular culture due to its distinctive aesthetics and Apple's successful marketing. The iMac and other Macintosh computers can also be seen in various movies, commercials, and TV shows (both live action and animated).[1] The iMac has also received considerable critical acclaim, including praise from technology columnist Walt Mossberg as the "Gold Standard of desktop computing";[2] Forbes Magazine described the original candy-colored line of iMac computers as being an "industry-altering success".[3] The first 24" Core 2 Duo iMac received CNET's "Must-have desktop" in their 2006 Top 10 Holiday Gift Picks.[4]
There has been much speculation on Apple rumor websites that an iMac update is imminent, but so far these have failed to materialize. In late 2008, several websites citing anonymous sources predicted an iMac refresh in November of that year, but those reports turned out to be incorrect. Speculation then switched to MacWorld in January 2009, which would have come nine months after the computer's last update, but there was no mention of the iMac during the keynote speech by Apple marketing head Phil Schiller. It was reported on January 30, 2009 that Apple are advising members of its reseller channels that supply of iMacs will be constrained in the immediate future, a move that may signal new models are nearing production.
References
Edit