iCloud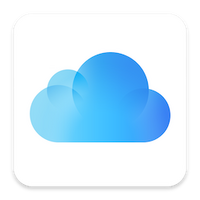 Creator: Apple
Released: October 12, 2011
Price: Free
Product is currently available.

iCloud is a cloud storage and cloud computing service from Apple Inc. launched on October 12, 2011. As of July 2013, the service had 320 million users.
The service provides its users with means to store data such as documents, photos, and music on remote servers for download to iOS , Macintosh or Windows devices, to share and send data to other users, and to manage their Apple devices if lost or stolen.
The service also provides the means to wirelessly back up iOS devices directly to iCloud, instead of being reliant on manual backups to a host Mac or Windows computer using iTunes. Service users are also able to share photos, music, and games instantly by linking accounts via AirDrop wireless.
It replaced Apple's MobileMe service, acting as a data syncing center for email, contacts, calendars, bookmarks, notes, reminders (to-do lists), iWork documents, photos and other data.
Ad blocker interference detected!
Wikia is a free-to-use site that makes money from advertising. We have a modified experience for viewers using ad blockers

Wikia is not accessible if you've made further modifications. Remove the custom ad blocker rule(s) and the page will load as expected.