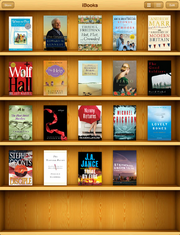 iBooks is an e-book application by Apple Inc. It was announced in conjunction with the iPad on January 27, 2010, and was released for the iPhone and iPod Touch in mid-2010, as part of the iOS 4 update. At that time, it was described by Apple as being available only in the United States. Product information released in March 2010 continued to indicate that iBooks would only be available in the U.S.
It primarily receives ePub content from the iBookstore, but users can also add their own ePub and PDF files via data synchronization with iTunes. Additionally, they can be downloaded to iBooks through Safari or Apple Mail. It is also capable of displaying e-books that incorporate multimedia. According to product information as of March 2010, iBooks will be able to "read the contents of any page [to the user]" using VoiceOver. OS X Mavericks added iBooks for OS X
Ad blocker interference detected!
Wikia is a free-to-use site that makes money from advertising. We have a modified experience for viewers using ad blockers

Wikia is not accessible if you've made further modifications. Remove the custom ad blocker rule(s) and the page will load as expected.