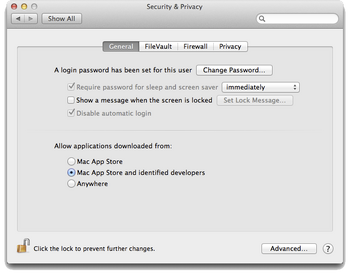 Gatekeeper[1][2] is an anti-malware feature[3][4] of the Mac OS X operating system. It was first included with OS X Mountain Lion. Gatekeeper allows users to restrict which sources they can install applications from in order to reduce the likelihood of inadvertently executing a Trojan horse. There are three options: allow only applications downloaded from the Mac App Store to be launched, allow applications downloaded from the Mac App Store and applications signed by certified Apple developers to be launched, or allow all applications to be launched.[5]
References
Ad blocker interference detected!
Wikia is a free-to-use site that makes money from advertising. We have a modified experience for viewers using ad blockers

Wikia is not accessible if you've made further modifications. Remove the custom ad blocker rule(s) and the page will load as expected.