System extensions were created to added functionality to Macintosh systems. These loaded up during the start up of Mac OS Classic versions, and were seen at the bottom of the welcome splash. System Extensions appeared as icons and more and more showed as the various extensions were loaded. Aside from functionality purposes, extensions would also sometimes add control panels. Occasionally after installing a new extension, it would cause the system to stop loading Mac OS because of a possible conflict with another extension. To bypass this, a user would have to restart their Macintosh while holding down the "Shift" key to disable all extensions. This would limit funcionality, but would allow the user to correct or disable the culprit extension, thereby allowing the user to start up with all of the other extensions on. Some common extensions were those related to Quicktime and Apple Help.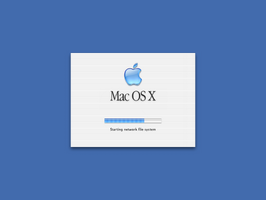 After the release of Mac OS X, Apple nixed the extensions at the bottom of the screen and simply showed the progress bar- though extensions are still used in OS X.
Ad blocker interference detected!
Wikia is a free-to-use site that makes money from advertising. We have a modified experience for viewers using ad blockers

Wikia is not accessible if you've made further modifications. Remove the custom ad blocker rule(s) and the page will load as expected.