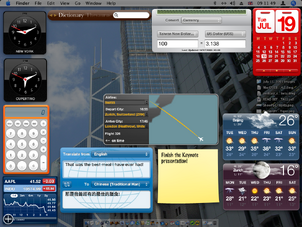 Dashboard is an application for Mac OS X (starting with 10.4 "Tiger") that allows users to perform small tasks in mini-applications called "widgets". Activated by clicking the icon in the Dock, a semi-transparent layer appears over the desktop and widgets pop up.
Widgets
Widgets are small web pages housed in a .wdgt package that can be created with Apple's Dashcode widget creation software (included with Apple's Xcode, downloadable from here). The stock widgets are:
Business
Calculator
Calendar
Dictionary
ESPN
Flight Tracker
Google Search
iTunes Controller
Movies
People Finer
Phone Book
Ski Report
Stocks
Tile Game
Translation
Unit Converter
Weather
Web Clips
World Clock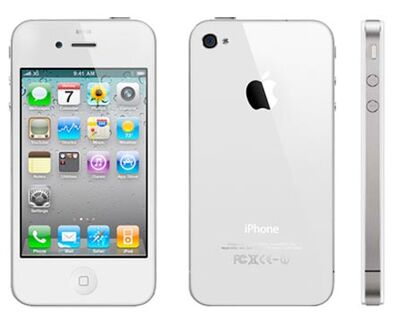 iPhone 4S Deals More widgets, third-party developed, are downloadable from Apple's Dashboard Download Page.
Ad blocker interference detected!
Wikia is a free-to-use site that makes money from advertising. We have a modified experience for viewers using ad blockers

Wikia is not accessible if you've made further modifications. Remove the custom ad blocker rule(s) and the page will load as expected.