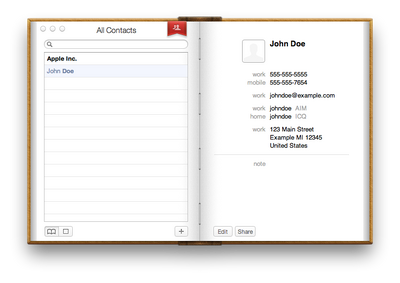 Contacts (previously called Address Book before OS X Mountain Lion) is an address book application made by Apple Inc. that runs only in Mac OS X.
Features (Version 3.0)
Exports and imports cards to and from vCard format.
API to interface with other applications.
iSync compatibility
iChat integration
Prints labels
Print mailing lists
Change of address notification
Contact groups
Auto-merge when importing vCards
Customise fields and categories
Automatic formatting of phone numbers
Synchronises with Microsoft Exchange Server
Speech recognition searching
Integrates Bluetooth-enabled phones (displaying incoming and missed calls, displaying incoming text messages, lets you send text messages using the phone, etc.)
Capability to query an LDAP database containing person information.
AddressBook2LDAP has an option to share your address book with others via a central LDAP directory
Plugin interface so that third-party developers can add functionality to the program
iPhone note
The Address Book is located at /private/var/mobile/Library/AddressBook/AddressBook.sqlitedb, as an standard SQLite database.
Description
Address Book has two viewing modes: View Card and Column, and View Card Only. The user can switch between modes with a control in the upper-left portion of the window under the close box.
In View Card and Column, the Address Book window is divided into three panes. The first pane has the title Group. This pane lists All, Directories, and each user-made group. Users can add new groups by pulling the File menu down to New Group, or typing Command-Shift-N.
When selecting All or a user-made group, the second column has the title Name. It lists the names of the people with cards in that group, or all the names if the selected group is All, in alphabetical order by first or last name, depending on user preference.
The third pane has the card corresponding to the selected name. The card can include information, some of which the user can classify into customisable categories like Home and Work. Many of the fields can have duplicate entries, for example, if the person the card describes has several email addresses. The user can edit the fields by pressing the edit button below the bottom-left of the third pane. Default fields include:
Picture
Name pronunciation
First name
Last name
Job title
Company
Phone number
Email address
Home page
Birthday
Instant messaging username
Address
Note
Address Book can search LDAP directories. Users customize these in the LDAP tab of the preferences. Users search these by selecting Directories in the first pane, selecting a directory or All in the second pane, and typing their search in the search box above the top-left of the third pane. Results appear in the third pane.
Sources and References