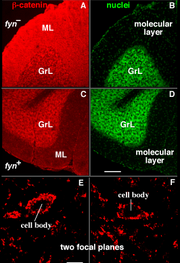 ClarisDraw was the final incarnation of MacDraw, one of the early Macintosh applications. Development of Apple's drawing program ended in 1997 when Claris was dismembered.
ClarisDraw supports very large file sizes and allows very fine control of both objects (text boxes, arrows, etc) and bit mapped paint boxes. The image to the right shows a composite of six microscopy images with added labels.
ClarisDraw supports the printing of large files to laser printers and other types of high resolution color printers.
ClarisDraw runs flawlessly under Mac OS 9. The screenshot below shows ClarisDraw running in the Classic Environment under Mac OS X. Some of the pull-off menus of ClarisDraw are illustrated, including a color palette and tools for alighment of objects and arrows.
EazyDraw can open ClarisDraw files.
Ad blocker interference detected!
Wikia is a free-to-use site that makes money from advertising. We have a modified experience for viewers using ad blockers

Wikia is not accessible if you've made further modifications. Remove the custom ad blocker rule(s) and the page will load as expected.