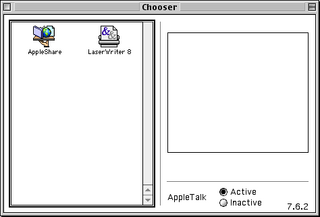 The Chooser is an application programme for Macintosh systems using the Classic Mac OS. It started out life as a desk accessory and became a regular application programme as of System 7.
The Chooser would let you choose your network (e.g. AppleTalk Network) and also to select a printer.
The Chooser faded away at the end of the 1990s.
In Mac OS X, the Chooser has become extinct, replaced by OS X's integrated networking features in the Finder. As for the printing functions, they are now found in the separate Print Centre (10.2 and earlier) or Printer Setup Utility (10.3 and later) application.
History
The original Macintosh did not support networking, but could connect to a variety of printer types via its serial ports. A small desk accessory called Choose Printer allowed the printer driver and serial port to be selected for the connected printer. When Apple introduced the LaserWriter, its very high cost meant that the only cost-effective way to use it was shared among a small workgroup of Macs. This necessitated the inclusion of AppleTalk, a simple networking implementation which used low-cost cabling and the same physical RS-422 serial port hardware. It was a natural extension of Choose Printer that this should include the ability to select the LaserWriter and also which port was used to connect its network connection. Of course Appletalk soon became useful for other types of networking beyond sharing the LaserWriter and the Chooser, as it was now named, became the easiest place to add networking control features.
Many have criticised the strange dual purpose nature of the Chooser as making little sense, given that Printing and Networking are two very different tasks. From a historical perspective however, it's perhaps easier to understand why this was done. What is perhaps more open to question is why Apple didn't take the opportunity with System 7 or later to separate the tasks and provide a simpler, clearer interface.
Sources and References
Ad blocker interference detected!
Wikia is a free-to-use site that makes money from advertising. We have a modified experience for viewers using ad blockers

Wikia is not accessible if you've made further modifications. Remove the custom ad blocker rule(s) and the page will load as expected.