CPU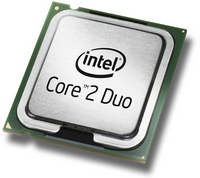 Creator: Intel
Full name: Central Processing Unit
The CPU in Macs have had a long history, changing between different companies. Today the CPU is now done by Intel.
History
Apple I
The Apple I and Apple II used CPUs from a company called MOS. This was because they were very cheap for the company and they worked brilliantly. The company changed to Synertek due to company takeovers
Apple Lisa
The Apple Lisa used CPUs from Motorola (yes the ones who make phones), which made the clock speed a little faster. The Motorola CPUs were used right through the Macintosh range until the Power Macintosh.
Power Macintosh
The Power Macintosh is the first computer to use a PowerPC based CPU.
iMac
In early 2006 Apple announced that the new iMacs at the time were going to have Intel dual-core based processors. This has stayed since.
Techincal Details
The Processors in the newer computers are standard Intel processors. For PowerPC details go to the PowerPC Article.
Ad blocker interference detected!
Wikia is a free-to-use site that makes money from advertising. We have a modified experience for viewers using ad blockers

Wikia is not accessible if you've made further modifications. Remove the custom ad blocker rule(s) and the page will load as expected.