Warning! This page is about something which is really, really old!
Apple III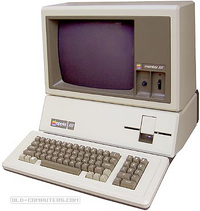 Creator: Apple
Released: May 19 1980
Price: $7,800
Discontinued: April 24 1984.

The Apple III was a personal computer by Apple, and was made mainly for business. The Apple III was the successor to the Apple II. The Apple III was released in May of 1980, and costed around $7,800. This computer was full of errors. Apple was going mad over this and well made everyone in the company use it and didn't go down very well. They had to come up with a much better idea.
Apple III Plus
Apple III Plus
Apple III Plus Creator: Apple
Released: December 1983
Price: $2,995
Discontinued: September 1985.


The Apple III Plus was released on December 1983, which was a revised version of the Apple III. The Apple III Plus costed $2,995. The revised Apple III included a digital clock, a re-designed keyboard, video interlacing, rear port connectors, and 256K RAM. The newly redesigned keyboard was made a little like the Apple IIe.
Owners of the original Apple III could get the newly logic board as a replacement. A keyboard kit was also made, which included the keyboard, cover, keyboard encoder ROM and logo replacements.
Ad blocker interference detected!
Wikia is a free-to-use site that makes money from advertising. We have a modified experience for viewers using ad blockers

Wikia is not accessible if you've made further modifications. Remove the custom ad blocker rule(s) and the page will load as expected.