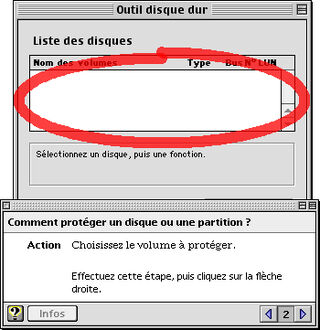 Apple Guide is an advanced assistance system for the Classic Mac OS. It was widely deployed immediately after the release of System 7.5. (It was first encountered in that very system as well.)
Apple Guide not only provides the user with help text on-screen, but also walks the user through the procedure. The Mac would ask the user to perform an operation, and an invisible red crayon (called the Coach) would appear on-screen. Should the user desire more information (if a term, for example, was not presented clearly enough), a Huh? button was (sometimes) on hand for that very purpose.
Apple Guide remains unparallelled to this day. Unfortunately, it was excess work; very few applications adopted it in the end. Its use became increasingly rare after Mac OS 8.x, particularly after Mac OS 8.5. It continues through Mac OS 9.2.2.
Apple Guide does not exist in Mac OS X, to the chagrin of newbies.
Related articles
Ad blocker interference detected!
Wikia is a free-to-use site that makes money from advertising. We have a modified experience for viewers using ad blockers

Wikia is not accessible if you've made further modifications. Remove the custom ad blocker rule(s) and the page will load as expected.