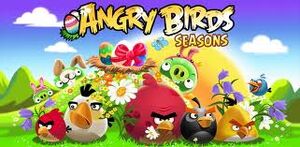 The pigs from the original angry birds keep on stealing the birds eggs. The birds are very angry and keep on stopping the pigs.
Levels
Trick or Treat - October 2010
Seasons Greedings - December 2010
Hogs and Kisses - February 2011
Go Green, Get Lucky - March 2011
Easter Eggs - April 2011
Summer Pignic - June 2011
Mooncake Festival - September 2011
Ham'o'ween - October 2011
Wreck the Halls - December 2011
Year of the Dragon - January 2012
Cherry Blossom - March 2012
Piglantis - June 2012
Ad blocker interference detected!
Wikia is a free-to-use site that makes money from advertising. We have a modified experience for viewers using ad blockers

Wikia is not accessible if you've made further modifications. Remove the custom ad blocker rule(s) and the page will load as expected.