On June 7th,
2004
,
Apple Inc.
introduced the Airport Express which was based on the 802.11g specification. The Airport Express is an AirPort base station, which currently holds the title for the smallest base station in existence, and includes Audio-out, USB for wireless printing and an ethernet-port. Airport Express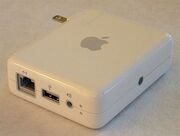 supports the
AirPlay
 functionality, which allows audio to be streamed over wireless network to the Airport Express, which outputs the audio through its audio-out to stereos, for example. AirTunes functionality requires
iTunes
4.6, or newer. Audio-out supports digital optical and analogue output. Airport Express can also be used to easily expand wireless coverage via WDS-bridging. In June 2012 at
WWDC
the second generation was introduced with a new redesign sporting Dual-Band support of 2.4 and 5 GHz networks.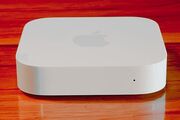 Sources and References
Ad blocker interference detected!
Wikia is a free-to-use site that makes money from advertising. We have a modified experience for viewers using ad blockers

Wikia is not accessible if you've made further modifications. Remove the custom ad blocker rule(s) and the page will load as expected.