The Apple dock connector is a proprietary 30-pin connector that was common to most Apple mobile devices (
iPhone original
,
iPhone 3G
,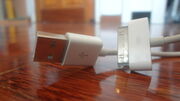 iPhone 3GS
,
iPhone 4
,
iPhone 4S
;
1st to 4th generation iPod touch
,
iPad
,
iPad 2
and
iPad 3
) from its introduction with the 3rd generation
iPod
in 2003 until the
Lightning (connector)
was released and replaced the connector in September 2012. Originally, the Apple dock connector carried
USB
,
FireWire
, some controls and line-level audio outputs. As the iPod changed, so did the signals in the dock connector. Video was added to the connector. FireWire was phased out of the iPods, which led to a discontinuity in usage of the dock connector.
As a result of the popularity of Apple's iPod and iPhone devices using the connector, a cottage industry was created of third-party devices that could connect to the interface.
Ad blocker interference detected!
Wikia is a free-to-use site that makes money from advertising. We have a modified experience for viewers using ad blockers

Wikia is not accessible if you've made further modifications. Remove the custom ad blocker rule(s) and the page will load as expected.